Ronen Segev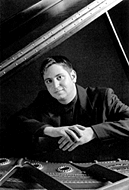 Pianist Ronen Segev (also known as Ronnie Segev) has performed around the world to critical acclaim. Most recently, Mr. Segev performed a solo recital in Carnegie Hall's Weill Recital Hall, as the NAE's 1st Place ALEX Award Winner.
Mr. Segev graduated from The Juilliard School where he studied with Veda Kaplinsky. Before Juilliard, Mr. Segev attended the High School for Performing Arts in Houston (HSPVA), where he received numerous prizes and honors, including First Prize in the Dorothy Kelley Memorial Piano Competition and the H&H Piano Competition.
Mr. Segev is a major proponent of new music. Additionally, Mr. Segev has a known affinity for Chopin Mazurkas. Last year, Mr. Segev performed Mazurkas for the Kosciusko Foundation Chopin Series. In his review for Leconcertographe, Frederick L. Kirshnit called Mr. Segev's performance "sensitive and mature".
Classical Music radio personality and commentator David Dubal agrees:
"Segev performs the Mazurkas with a genuine love for this great music; no one plays these pieces more convincingly than Ronen."
Mr. Segev has been featured in numerous periodicals and news reports including The New York Times, Timeout NY, NY 1 News, ABC News, FOX News, and CBS News. Engagements this year include recitals in Paris, Washington D.C., New York, Oklahoma City, Houston, Sarasota, and Miami, Mr. Segev currently resides in New York City.